For all your wrestling boot needs!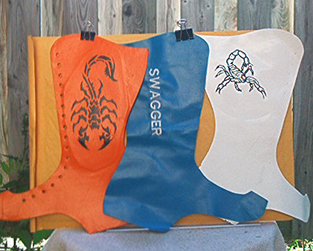 At RD Wrestling Boots, we strive to provide the best in wrestling boots, and everything associated with wrestling boots.
All of our wrestling boots are custom made to fit every foot individually. We only make wrestling boots after we have received measurements from the client to assure that the boots will be a perfect fit.
We offer three types of leather for your boots.
Basic: The toughest/strongest we have. Will never wear out.
Colours Available: Black, White and Yellow.
Patent: Just as it says, we have a limted supply of patent leather.
Colours Available: Black, White and Red!
Kid: As strong as the basic and as beautiful as the patent leather.
Colours Available: Over 125 Colours.
We also now offer a wide selection of animal print leather such as Cheeta, Alligator, Red,White,Blue and Black Snakeskin and Leapord. (Contact us for availability)